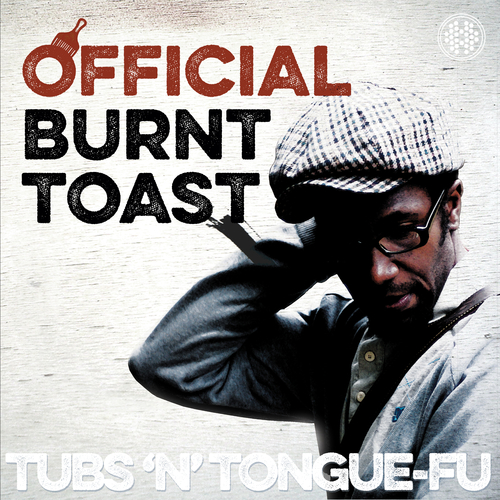 Tubs n Tongue-Fu
Available Formats
Tracks
Price
Buy
12" Vinyl Album
10 tracks

£

17.99

Download Album (

MP3

)
10 tracks

£

7.99

Download Album (

WAV

)
10 tracks

£

7.99

Download individual tracks
From £0.99
Description
Official Burnt Toast - Tubs n Tongue-Fu
Tubs 'n' Tongue-Fu (SONS07LP) the debut album by Official Burnt Toast is scheduled for release on 15th June 2015. Available in deluxe vinyl edition and digital download from Sonskrif Media and distributed worldwide by State 51 Conspiracy. Official Burnt Toast are Adrian Lawrence (MC / drums) Patrick Luke (bass/production) & Abrar Hafiz (bass).

Delivering a lethal stream of conscious poetry over homegrown beats and boasting two live bass players, UK based, Canadian MC - OBT effortlessly meld elements of Lo-fi Hip Hop, Post Punk and Jazz.

The album has many highlights and stand out tracks hitting a range of subjects and moods including the political 'Whats In A Word' and 'Money As Debt' (a damning depiction of our debt based economy) as well as the poetic and personal such as '425' and 'Titles on G Street' (composed solely from old Blue Note titles).
Reviews
"OBT eloquently fuses the lethal observational skills of a Raymond Chandler detective with Hip Hop and the subtleties and unsurpassed surgical spirit of a Martin Hannett production circa Joy Division and Section 25. The result is an infectious cocktail of American paranoia, Canadian objectivity and a very English obsession of introspection and fly on the wall documentary with the warmth of an accessible sound" (Luke Hanam / Gramme).
"Two basses flanking a drum machine and vocalist spitting out chunky hip-hop jazz. Very nice indeed" The Stool Pigeon.
"I always shoot to music, except when we're being filmed for TV shows... My fave band at the moment is Official Burnt Toast. Their music is between spoken word and rap. It's very funky, but with an English sentiment". Perou's cultural highlights - The Observer.
Tracklisting
12" Vinyl Album (SONS07LP)
Download Album (SONS07D)
Official Burnt Toast

- What's in a Word

Official Burnt Toast

- 425

Official Burnt Toast

- Titles on G Street

Official Burnt Toast

- AQ

Official Burnt Toast

- What Ya Gunna Do

Official Burnt Toast

- Money as Debt

Official Burnt Toast

- That's Life

Official Burnt Toast

- Hi Time

Official Burnt Toast

- Affected By

Official Burnt Toast

- Devil in the Detail